Helping tutors support students to study better
It's tough being a student, tougher being a tutor
Learning to believe in yourself as an undergraduate can be a tough journey. Better studying habits for students can be developed by understanding their inner drive. Being thrown into the deep end of looking out for yourself: having a limited budget, mixing with strangers, and having to manage your own time. Not to mention facing some challenging material and a stream of deadlines to submit lab reports or coursework. All of this comes at a time in your life (for most young people) when they are still trying to work out who they are and what their identity is.
Before long the end of year, or even the course, is in sight and interviews loom. Yet more challenges. For some students, they are impeccable at keeping lists and logging what they are doing, recording each micro achievement. For others, they live more 'in the moment' (links to the CliftonStrengths Adaptability theme) and enjoy every second as it comes bowling along. How on earth can the average member of teaching staff who signed up to teach technical topics suddenly become an expert at being a coach, counsellor, or confidante with answers to millennia-log problems of people struggling to interact with each other?
We are all unique
The world would be a dull place if we were all the same. With this uniqueness comes frustrations. Shared accommodation and different levels of cleanliness, tidiness, or order create friction and tension. And it's the same in projects or teamwork where a random mix of people are thrown together with people poles apart from ourselves. And yet in a funny irony, these are likely to be the very people we need to collaborate with. The deep ponderer, oblivious to the details of their surroundings, the focused deliverer of tasks, or the social butterfly who loves hearing stories and getting to know and support others (read Jan's donut moment blog post). Often these become the best partners for all sorts of activities in studies, at work, or in love.
Tutors supporting students better
For academic tutors, dealing with the manifestation of these challenges is all too familiar. Tensions, trauma, and tantrums are all part of the soup of human beings thrown together and expected to get along and get things done. And despite the systems in place, in universities and colleges, it's almost impossible for any tutor to have all the answers. For students, it's been a sink or swim experience over covid. Helen and I have been honored to help shift a number of students from sink to swim.
Case studies of how CliftonStrengths helped two students
The hard worker always striving to work hard on harder things and make them better
For Salma, whose final year project was overwhelming her, knowing her talent themes meant we could help her see which characteristics were causing her the most pain. Her expectations of what she could do were really high, she needed to complete every task she set herself and always chose the hardest option. She had both Achiever and Maximizer in her top five. By talking through these talents and helping her find strategies to break tasks down into bite-sized chunks made each day more manageable. And setting the dissertation into its context of being able to justify why she had chosen a particular algorithm and adding the context of how she could improve her project meant that she earned the highest mark ever awarded.
The student whose brain loved to think, create and explore ideas who couldn't get things done
Stephanie was feeling demotivated by all of the student team projects. Her top profile contained thinking themes and influencing themes. She was frustrated by herself for finding it really hard to get things done and finished. But worse, her teammates saw her as a time-waster full of ideas she happily shared. But never finishing her tasks. Exploring her talent themes we helped her see her value in shaping the background context and research relevant to the problem they had been set. She also added value by thinking through the impacts of the chosen solution. Stephanie also preferred to collaborate and discovered not only was she able to energise others easily but she too was energized by working on a task with others.
Helping students learn to love themselves, their quirks and natural talents
University's support is varied and increasingly includes appointing coaches and counsellors as well as setting up mentoring and peer mentoring programmes. But unless there is a connection with each student about what causes particular pain points for them, and what energises them, the return on these investments can be low.
CliftonStrengths has the capacity to transform a student's outlook on life, which can be lifelong.
Knowing how we work, helps us study better
Developing a better understanding of our internal drivers brings awareness of how we respond to deadlines, manage workloads, or indeed how to study more effectively. Tutors can access the CliftoStrengths resources for their students, accessing the ebook CliftonStrengths for Students, with CliftonStrengths theme-based studying tips.
Mentoring and coaching techniques help: CliftonStrengths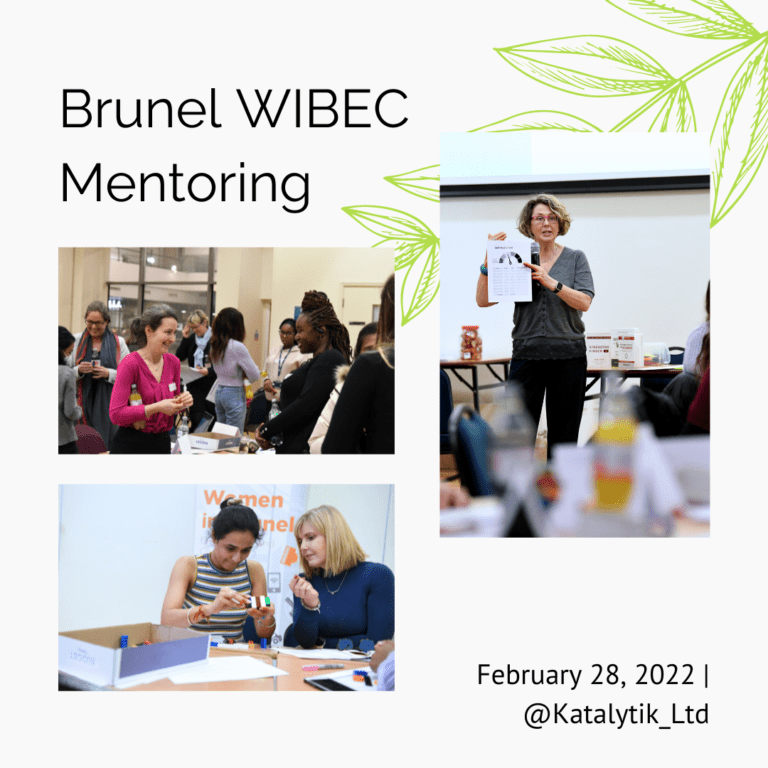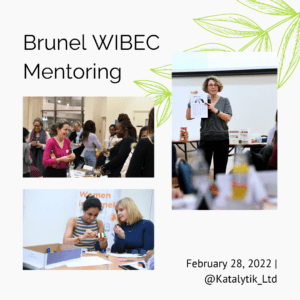 Katalytik has been supporting the Brunel WIBEC mentoring programme since 2014 and in that time has nearly 700 students connect with their innate talents. The programme was founded by Giselle Hayward who has grown the annual pool of mentors to over 100, some of whom are Brunel (and indeed WIBEC) alumni. We work as part of the team providing mentor training and helping mentors and mentees connect with their strengths including:
Managing traumas in halls/shared accommodation – getting to the why of when people can clash
Understanding the potential for tensions among course colleagues helps identify ways of acknowledging people's innate talent and gives people space to be themselves
Enabling students to ask better questions, so when friends, colleagues, or partners have a meltdown, people can offer better forms of welcome support.
And most of all, offering a tool that helps students tap into what they do best and grow confidence in speaking up and out about how brilliant they are. Perfect for a job interview, answering "tell me about yourself".
Strengths: let's focus on what's right with people, not what's wrong
One of the reasons we love the CliftonStrengths tool is because it focuses on what's right with each of us. Being more self-aware, as step one, helps develop our understanding about when things are going wrong and we feel drained, and simply noticing enables us to apply our critical thinking to identify a course of action. As step two, it enables tutors and students to look at what others bring and how we can help them be their best.
It's not expensive
The low-cost version of CliftonStrengths provides you with your Top 5 CliftonStrengths (you can unlock your full 34 report for £40) and a report complete with action items, a digital book, and an online e-learning module. We find the Top 5 is a perfect entry for students to develop a language and approach to get to know themselves in a deeper way than any we've encountered so far.
By working with mentors and mentees we provide the tool and method to craft a personal brand statement and learn how to go back to your CliftonStrengths report on days when your feet drag and your energy levels sag. Our personal well-being is deeply wired into our personal psychology and our CliftonStrengths themes are the language and activities that can give us a boost. Using CliftonStrengths can help us support students in personalising their studying and learning habits.
For tutors using CliftonStrengths, Katalytik offers free support through our monthly Strengths Jam sessions and our FaceBook group. We also run a group coaching programme, Momentum. Book a call to find out more.